About Flight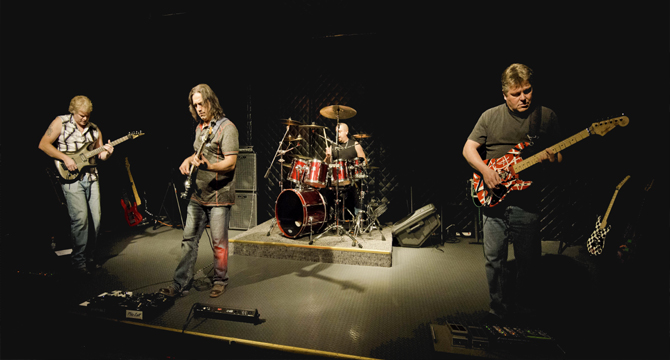 Flight is Guitarist Scott Abene, Guitarist Scott Deardon, Bassist Tony Puleo and Drummer Sal Demetrio.
How did Flight get off the ground, you ask? Quite frankly, Flight came about by complete chance and accident. Scott Abene placed an ad on Craigslist in June of 2013 looking for Rock Fusion players to form a band. Scott Deardon, who was looking for more of a straight ahead Rock Instrumental band, decided to answer the ad. After reading Deardon's email which started off with the iconic, "Just a shot in the dark but what the hell", Abene decided that he should meet with this go-getter of a guitar player.
Abene was not looking to team up with another guitarist. In fact, he had not even entertained the idea. He states "I was thinking more along the lines of a keyboardist or sax player to round things out, and the idea of a dual guitar band never even crossed my mind."
Amazingly, the two hit it off pretty good from the start and decided to look for a drummer. In fact, the Scotts went through more drummers than Spinal Tap! Bass players also seemed elusive and hard to come by. The fact of the matter was, the Scotts were unwilling to compromise. They knew they needed the right people to make this unique project work.
When the Scotts decided to have their current drummer exit the picture, Mr. Deardon suggested a longtime friend and drummer that may be interested. Enter Sal Demetrio in the fall of 2014 who was a natural fit with the band immediately. A heavy hitter, Sal knew how to play the drum lines the music of Flight so badly needed. The band was finally making progress in a new and exciting direction and began sounding fantastic.
In the summer of 2015, yet another ad was placed on Craigslist to replace Flight's departing Bass player. Auditions were a long process that looked to have no end in sight for the band.
Enter Tony Puleo in the summer of 2015. Tony brought with him a long playing resume and an endorsement for pants. The band, being very excited by his technical fireworks and Gallien-Krueger amplification, was even more intrigued by the idea that maybe... just maybe... they could all score some free pantwear in the near or distant future. Tony's love of cookies and his quirky sense of humor were an instant fit for the band. Cohesiveness naturally followed in short time between these 4, both musically and personally. A band had finally been formed!
From August of 2015 to the present, Flight has been moving rapidly in writing new music to get out on the scene and play gigs. They have locked-in with each other and are forging their own sound. The future looks bright for Flight, and the band looks for fantastic things to come in 2016 and beyond. The Phoenix is RISING!
Flight Video
Flight - "Latitude 42.92"
2018